What can I even say? Megaman is by far one of the best video games out there. They're AWESOME! The ability to upgrade and change your gun to whatever weapon you want(while finding the boss's opposing weakness) is just amazing. Even the first few of the series are good, Megaman 2 has the same weapon system as Megaman X3, while X3 has many new features(the ability to dash and wall jump).
Megaman has gotten especially popular, even on the internet, where people have made their own videos to show how much they like Megaman.
But... What exactly makes Megaman so much fun? Is it the mindless killing of robots, and collecting extra lives, like in the Contra series(Although they use aliens, of course)? Or... Could it just be the awesomeness you feel when you see a boss explode, or is it the challenge of the game?
As I said before, the first few Megaman games for the NES are in my opinion, the hardest. You have little to protect you from the flurry of bullets, and the fray of shit flying across the screen... You're screwed if jumping isn't enough to save your ass.
But this isn't what Megaman is all about.. No... Megaman is all about the X series, where you get to deck out Megaman in armor that was created by Dr. Light to help Megaman kick some ass... But where is Wily in all of this.. It's a mystery.
Not only does the game get more fun in the X series, as you have more controls to work with, but it's because the bosses are also much more challenging(usually)... And if you don't have the right weapon, it really can require a lot of maneuvering and patience, and lots of skill to kill the boss you're going for.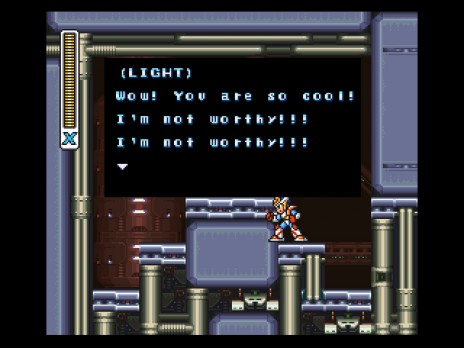 Decking yourself out by killing the bosses isn't the only way to get stronger in the game... In the X series there is also a series of armor you can find, in capsules that look like specimen life support chambers?... Anyway.. Each piece of armor provides a different function... For example, the Armor will allow you to take less damage overall. You can also find E tanks(Energy tanks, which hold extra health to heal you later in the game for boss fights), as well as Heart Containers, which will add a little bit of extra health(It really adds up) to help you in the game. THERE ARE TONS OF SECRETS!
Throughout the game, you'll find that there is also tons of other stuff for you to do, and each level has its own awesomeness that makes it Megaman. There are water levels, where if you jump too high you'll fly into spikes and get your ass handed to you, and there are levels where you can ride high tech motor bikes, and jump gully's. Megaman levels are so diverse that you can play them over and over, and still have fun doing it.
If you're looking for something to do, and you can't figure out quite what it is.. You probably want to play Megaman. So what are you waiting for? Play them all, and when you beat them.. Play them again! Have fun and enjoy playing Megaman, because it's one of the most kick-ass games you'll ever play.
I'm going to give the entire Megaman series a rating of 9/10, because it's just that awesome. You really should try it, and if it gets too hard and you rage quit, just come back to it later. It's all about memorization and skill! Maybe later I will give the Megaman Legends series a review, but for now, let's leave those out... Because that's not really the kind of Megaman I'm talking about today. PEACE!